Dr Kyle Sheldrick
MBBS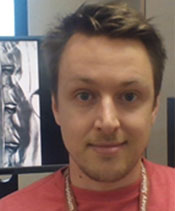 Kyle grew up in Campbelltown, NSW and has previously been a Neurosurgery Registrar at Westmead Children's, Sydney Children's, Prince of Wales, and St George Hospitals.
He is a Researcher with our Spine Service team, with the focus of his research being on MRI scans of the spine. His research includes identifying which structures help keep the spine in normal alignment, spondylolisthesis, as well as finding better ways to measure whether intervertebral discs are healthy or degenerate.
In his free time: Kyle enjoys reading, and growing his own organic fruit, vegetables and mushrooms.