About the CTU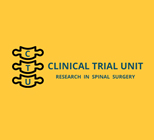 Spine Service and Spine Labs
The Spine Service and Spine Labs Clinical Trials Unit (S3LCTU) fills a much-required gap in clinical research for spinal disorders. Situated strategically on the St George Hospitals Campus, it harnesses the collaborative power of not just working across Local Health Districts and University of New South Wales, but also across numerous private surgical practices on and off campus.
The S3LCTU has expertise in the core competencies required for design and conduct of high-quality trials in accordance with the ICH-GCP guidelines: including trial management, data processing &management, and statistics. Additional areas of expertise include systematic reviews,meta-analysis and network meta-analysis in the area of spinal surgery.
We are a young "start-up" entity that seeks growth via collaborative efforts and organically with investigators within Spine Labs from the areas of spinal biology and spinal imaging; and with more spinal surgeons locally and nationally. Our overall aim is to build capacity in spinal surgical research, for which we seek learning opportunities from established NHMRC-clinical trial units to achieve that goal.
Our unique focus is to utilise principles of statistics and clinical trials to answer deeper questions in relation to discovery in degenerative disc disorders and chronic spinal cord dysfunction. We achieve these by conducting not-for-profit prospective observational studies andwell-designed case-control studies. All studies are critically reviewed and approved by Human Research Ethics committees. Currently we are conducting DeVa study- a MRI post-processing study to better diagnose back pain, MiSO study to understand the microbiome and its relation to surgical outcome, adiffusion-tensor MRI study to evaluate nerve roots post microdiscectomy.
While we have our own investigator, initiated studies like DDCM, EMERALD and RUBY, we also undertake first-in-human trials for sponsored research (ACTRN12618001375246). In the past we have evaluated a biological therapy for degenerate disc for a global pharmaceutical study (NCT011589).
We are also the Australian "anchor team" for Davos based AOSpine, specifically with their Degen Knowledge forum group. We are excited to be part of their DegenPro studies and will help their uptake amongst Australian spinal surgeons; to answer some very basic and critical outcome issues related to conditions like cervical radiculopathy, and degenerative spondylolisthesis. We expect that to be immensely beneficial to Australian patients in the long run.
By virtue of our association with the University of New South Wales, where our director also acts as a postgraduate coordinatorfor the St George and Sutherland Clinical School; the S3LCTU contributes to the development of neurosurgical and orthopaedic surgeons as academics by pursuing higher degrees. Currently there are 5 PhD scholars, 2 with an orthopaedic background, 1 neurosurgical, 1 immunologist and 1 mechanical engineer.Currently, we have 2 honours students apart from numerous visiting scholars and studentsassociating with us from time to time.
During Covid-19 while our operations have been impacted significantly, the accidental "mooring" of two of our researchers in China has led to a robust collaboration with two leading spinal surgeons, in the fields of smoking and disc degeneration.
Personnel:
Ashish Diwan – Chief Investigator
Neha Chopra PhD– Post Doc Researcher & Trials Management Coordinator
Kyle Sheldrick MD - Statistics
Xiaolong Chen MD – Director Systematic revies, Meta-analyses & NWA, and big data
Alisha Sial MD – Research Fellow, Clinical Outcomes
Jose Vargas Castillo – Chief Investigator, Surgical Outcome Studies
Sam Lapkin PhD – Investigator, Pain Assessment
Jeff Kuan – Investigator, Spinal Imaging
Chris Sauly – Student Researcher
Stone Sima- Student Researcher
Charmian Stewart – Student Researcher
Nerida Grewal – Clinical Nurse Coordinator
Cherie Tatsis – Manager Research