News & Events
UPCOMING EVENTS

5th Sydney Spine Symposium 2023
Friday 29th Sept 2023
Venue: Hyatt Regency, 161 Sussex St, Sydney
Information: www.sydneyspinalsymposium.org
REGISTRATION: https://www.sydneyspinalsymposium.org/2023-registration
4th Sydney Spine Symposium 2022
International Convention Centre, Sydney
Friday 9th Sept 2022
Read more
2nd Sydney Spine Symposium 2019
International Convention Centre, Sydney
Thursday 19th Sept 2019
Read more
Click here for more information
Back pain: New MRI technique promises to be a boon for back-pain sufferers
A new MRI scanning technique for analysing degenerated spinal discs opens up a promising pathway to better diagnoses of back pain.The terrific technical breakthrough improves accuracy from 70 per cent using prevailing methods to 97 per cent.It also opens up a discussion about how little doctors know about back pain, the imprecise imaging gained in MRIs – and the compromised effectiveness of existing treatments.
Click here for more information
Sydney Spinal Symposium 2018
International Convention Centre Sydney
Thursday 06th September 2018
Read more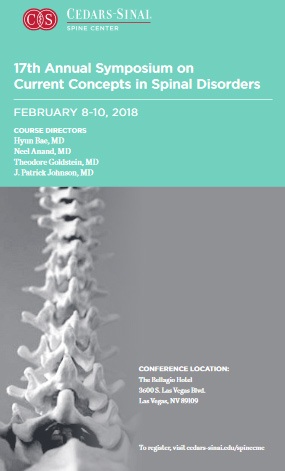 17th Annual Symposium on Current Concepts in Spinal Disorders
Date & Location
Thursday, February 8, 2018 8:00 AM - Saturday, February 10, 2018 4:00 PM   The Bellagio Hotel, Las Vegas, NV
Target Audience
Neurosurgery, Orthopaedic Surgery, Pain Management
Overview
The 17th Annual Symposium on Current Concepts in Spinal Disorders focuses on treatment methodology, controversies in spine care management, and new and emerging technologies. The faculty is composed of internationally recognized experts who will present lectures focused on innovations in spine surgeries, spine sciences including biologics, stem cells, minimally invasive surgeries, motion preservation, complications, controversies and deformities. Participants will have several opportunities to enjoy personal interactions with many of our country's leading spine professionals. All attendees are encouraged to join faculty for discussions and debates regarding all topics. Attendees are also encouraged to submit cases for our "What would you do?" Panel Challenge Case Discussion.
Objectives
Identify vulnerable areas in spine care and develop more effective treatment strategies, taking into consideration longterm effects from injury as well as the complex factors impacting safety and efficacy
Identify risk factors associated with spine surgeries and use evidenced-based best practices to manage complications, should they occur
Discuss recent advances in spine decompression and fusion and the various drivers of disc degeneration and apply best practices in the management of patients with DDD
Discuss new innovations and operative techniques and apply to future clinical decisionmaking processes
Describe options for correcting spinal deformities that avoid significant functional and/or neurological impairment in patients
Recognize and conservatively manage patients with various types of spinal disorders
Discuss the science, risks and benefits of motion preservation technologies and strategies to optimize patient outcomes
Click here for more information
ORS Spine Section Meeting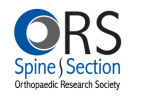 Date & Time
Friday, March 09, 2018
3:00 PM – 6:00 PM
About the Meeting
The goals of the section meeting are to present cutting-edge science and technology and to initiate and provoke discussion from multisector participants and audience members.
Symposium Goals: The symposium on "origins of spine related pain" aims to review our current understanding of factors causing or contributing to painful spine symptoms. Furthermore, with the availability of advanced profiling technologies and study designs, new pathways of pain are being identified that may lead to novel diagnostic and therapeutic targets. A more in-depth understanding of pain origins will help basic and clinician scientists to design clinically relevant studies and medical doctors to treat pain symptoms of patients in a more precise and personalized manner. Emphasis is put on the role of biomechanical imbalance as pain generator.
Click here for more information
ORS Spine Section/ISSLS Workshop – May 14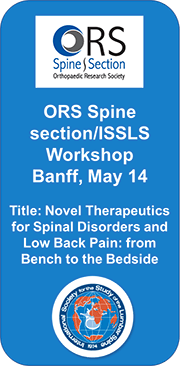 Novel Therapeutics for Spinal Disorders and Low Back Pain: from Bench to the Bedside
This exciting half-day workshop, organized by the Spine Section of the Orthopaedic Research Society, will take place the afternoon prior to the commencement of the main ISSLS program, and will feature scientific leaders from academia and industry presenting the latest translational research on novel therapeutic approaches for disc degeneration and low back pain, with a focus on preclinical studies and clinical trials. Two moderated scientific sessions will include ample time for questions and discussion. The complete program is below.
Day and Time: Monday May 14 , 14:00-17:00
Location:  Fairmont Banff Springs Hotel
Registration: $50 Register here (will open in the beginning of February)
Click here for more information