Dr Xiaolong Chen
PhD Scholar, B.Med., M.Med (Ortho.)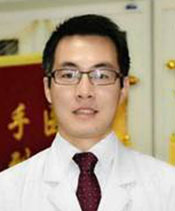 Dr Xiaolong Chen grew up in China. He has worked as Orthopaedic Registrar at Beijing Chaoyang Hospital (Beijing, China). He was granted a Masters Degree of Clinical Medicine from Capital Medical University in 2011. He worked as Spine Surgeon for 5 years in Beijing (China), and finished the clinical traveling fellowship training in USC and UCLA (USA). He is an AO Spine and North American Spine Society (NASS) member.
Dr Chen has been awarded many international grants, including The International Society for the Study of the Lumbar Spine (ISSLS) traveling fellowship award, AOSpine clinical research award, NASS traveling fellowship award, etc.
As a PhD Scholarship candidate and Researcher in Spine Service based at St. George & Sutherland Clinical School, he is focused on the preservation of lumbar intervertebral disc structure and function via biomechanical and clinical studies.
During his free time, Xiaolong enjoys traveling and playing basketball.